Pradeep Srivastava, MD, FACC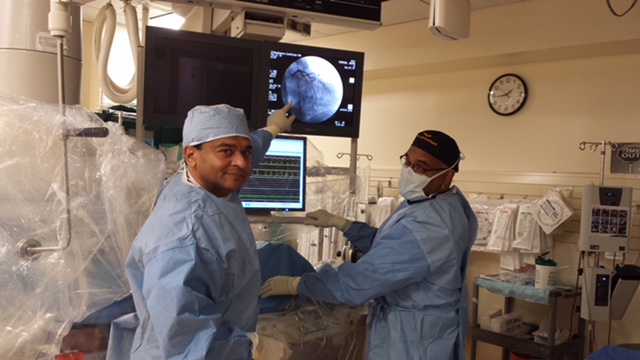 Pradeep Srivastava, MD, FACC, Chairman of Maryland Cardiac and Medical Associates, Assistant Professor to G.W University, School of Medicine, Washington D.C is a leading Interventional cardiologist.
He came to the U.S on Buffalo General Hospital in January 1985 at a very young age of 22 years, already a doctor. Six months before starting his internship.
He has spent 12 years of his career specializing in medical profession taking up fellowships at various hospitals across the State's, like Interventional Cardiology Fellowship from Hahnemann University Medical Centre, Leikoff Cardiovascular Institute Broad & Vine. Philadelphia, PA, on his fourth year from July 1992- June 1993.
Clinical Pacing & Electrophysiology Fellowship on his third year, from 1990- June 1991. He did this fellow ship in George Washington University Medical Center, Div. of cardiology, Washington DC, He also did Clinical Cardiology Fellowship, From July 1990 – June 1992 from the same George Washington University, Div. of cardiology.
And his very first clinical cardiology fellowship on his first year from July 1989 –June 1990 from University of Miami/Mt. Sinai Medical center- Miami Beach, Florida. Cardiology George Washington University Medical Center, Div. of cardiology.
He did his residency in Internal Medicine from SUNYAB School of medicine. Pradeep Srivastava MD was active and dedicated fellow and was responsible for many initiating programs.
He was one who submitted highest number of research papers for various heart diseases and was responsible for initiating a program at Prince George's Hospital Center that reduced the acute myocardial infarction (heart attack).
He also played lead role in replacing traditional TPA (clot-buster medicine) with a new interventional cardiology procedure.
He is also one of the two Electro physiologists in the Prince George's county in Maryland who specializes in the treatment of Arrhythmias (Irregular heartbeats).
Dr.Srivastava performed largest number of Acute Coronary Interventions in P.G. County Maryland for many years, He is also only Cardiologist in PG County Maryland, who is Triple Board certified and received a Citation from Governor of the state of Maryland for being the best Cardiologist.
Pradeep Srivastava MD specializes in the treatment of tachycardia's by performing a curative procedure known as Radiofrequency Ablation. He also treats fatal ventricular Arrhythmias and Sudden Death Syndrome by implanting a device called automatic implantable defibrillator. In addition, he also performs significant number of traditional pacemaker implants for treating Brady Arrhythmias (slow heartbeats).
Doctor Srivastava believes "Patient can only recover completely when the patients are open to their doctor and shares a relationship where they can express themselves freely. "Dr. Srivastava shares the special relationship with his every patient which cannot be described by words. The trust of the patient on their Doctor is Crucial. Pradeep Srivastava MD is completely aware of the situation which is proved by the bond that he shares with his patients. The trust that his patient show on him is something that is desired by every doctor. He empathized with his patients in a way only a few doctors can.
Pradeep Srivastava MD performs various surgeries and procedure and is one of the surgeons who performs largest number of stenting on United Hospital DC He is expert of his field. Various medical students admire him and visit him to gain knowledge that he shares. The Reason behind his immense success's is easily seen in the lab. The below video show's Pradeep Srivastava MD explaining his procedure to residents and fellows.
Pradeep Srivastava,MD,FACC, explaining about Artery angioplasty/ Stent Procedure in Cardiac Cath Lab
His interaction with the patient during the procedures and fellow doctors are impressive. He is indeed a team player. He shares a cherishing relation with everyone who is around him.
During his procedures, he never misses to surprise his fellow doctors with his new and advanced techniques. Pradeep Srivastava MD is smooth with his hands and knows what he is doing. His practice from the decades has given him tremendous knowledge about human body especially the Heart which heals people troubling from heart diseases. He is admired by everyone and Is counted as trusted cardiologist across the State.
During his procedures, he is often complimented by various Doctors that he does his work like magic and by the patient and their family as God. The one thing that most Doctor's admire about him is that he believes in learning and does his homework and gets adrenalized before every procedure as he is the beginner and performs like the master. He takes full responsibility for his work and is completely aware of the value Patients life, to their family, society, and country. There are many doctors who specialize in cardiology but Pradeep Srivastava MD is a Name which can never be beaten.
Pradeep Srivastava MD is a person who loves fitness and promotes healthy life style. He is one of the doctors who believes prevention is better than cure. he encourages healthy eating habits, yoga's, and meditations to his patients. He shares his patients his ideas through which they can keep their heart and themselves healthy. Pradeep Srivastava MD believes Mental health is equally important as physical health. On this growing world of stress, many of the heart diseases are caused by small issues that grow big on the people mind and gives them stress. He believes stable mind can reduce many of the heart diseases. And that's why he shares his immense knowledge to everyone which he feels is in need of expert's guidance.
Dr. Srivastava is a smart, intelligent doctor who understands the dynamic world and is aware with the importance of keeping up with modern technologies on his field to save more lives. He updates himself through books, newspaper, Television, Research and tries every possible way that he can do to make him aware of the current situation of his field. He completely understands the importance of research and devotes most of his time on new findings. During His residency he has submitted highest number of research peppers and was awarded for his immense work.
Pradeep Srivastava MD has traveled different parts of the world following his research and various crucial conferences going around the world such as Nice, France for Cardio Stim conference. Vienna, Austria for European Society of cardiology, New Delhi, India for Indian Society of cardiology and again Presented at European Society of cardiology at Jerusalem, Israel. His passion and love for his work are demonstrated on his research papers which are appreciated by Doctor's around the Globe.
Pradeep Srivastava MD is responsible human being as he knows the importance of today's generation. He believes today holds tomorrow's future. This may be the reason he devotes his time to train Medical student and fellows as well. He performs lectures, on different Interventional cardiology subjects yearly during his visit to India. Dr. Srivastava is actively involved in the training of resident in the Internal Medicine residency program at the Prince George's Hospital.
Dr. Srivastava is a very enthusiastic person, no, matter how much experienced he has gained over the years he is always eager to learn new things and as enthusiastic as a small child. In his career, he has seen many cases that are similar and different. But he treats his each case as different and does his homework as it is new and every time on his procedures he makes sure his patients get all the necessary care and attention they should be getting. cardiologist faces many challenges due to unhealthy life style, and high stressed that people share on their work which increases the risk of heart attack, high blood pressure and various cardiovascular diseases. The doctors need to be knowledgeable and should understand the unexpected scenarios that may come during the surgery. Pradeep Srivastava MD expects the unexpected and prepares his Team accordingly which is proved by the number of successful surgeries that he has performed.
Dr. Srivastava is very successful doctor. His tremendous work has given him loads of love which he does not hesitate to return. He is people's person and would help anybody in need. There are various patients who cannot reach the proper health care because of the financial boundaries, Pradeep Srivastava MD holds special place for the people who suffer from the financial crisis to get the required attention for their health. His desires to help poor uneducated people who cannot reach the Health care has become one of his mission.
His love for people and passion for helping them has encouraged him to work on his new Project where he wants to open a cardiac Cath lab working 24 hours a day in every metropolitan city of India in order to perform Acute Intervention on patients having acute heart attack and various heart diseases. He knew the importance of proper Hospitals for Heart in India from before but the death of his Best friend (Doctor himself) due to acute heart attack in one of the big city of India, derived him more for this auspicious project.
Pradeep Srivastava MD love traveling not only for his interest in fine arts, culture, and music but also to compare the medical care in different countries. His caring compassionate nature and religious beliefs drive him to do more and reach out people for help.
His dedication and hard work speak for the immense Success and love that he has received from decades.